It looks like everyone's obsessing about the size of Apple's new iPhone, which was announced today but won't be available for six months: 43Folders, Engadget, Jason Kottke.
Me, I couldn't help but notice something else. Apple now has three products — the Mac mini, the Apple TV and the newly released AirPort Extreme — that share the same form factor: basically, a flat square. I wondered — are they the same size? Are they stackable?
(Granted, you probably wouldn't need to stack a wireless router and a computer, but you might want to stack an AirPort Express and an Apple TV, especially since the latter has WiFi but is not itself a router.)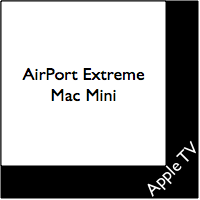 As it turns out, the Apple TV is wider than the other two:
Curious. Pointless, but curious.
Update, 1/10: No, wait, here's a thought. The new model of AirPort Extreme supports drive sharing, so any model of hard drive built to the Mac mini's form factor (like La Cie's) will fit like a glove. (The catch is that this one is FireWire-only, and the AirPort's drive sharing is only via USB 2.0.)