Nikon's 35mm DX prime lens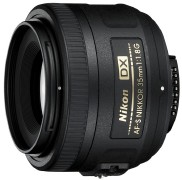 The rumours were correct; here it is: Nikon's first DX-format prime lens: the AF-S DX Nikkor 35mm f/1.8G (product page, press release).
Everyone who owns a Nikon D40, D40x or D60 should buy this lens (unless they already own the Sigma 30mm f/1.4). If you only own the 18-55mm kit lens, make this your second lens (or maybe your third, along with the 55-200mm telephoto zoom).
You want a standard lens in your arsenal. At 35mm, this lens replicates in DX format the 50mm standard lens on film, which is to say that it matches the human eye.
You want a low-light lens in your arsenal. An f/1.8 lens will suffice in most cases; f/1.4 lenses cost more. You can shoot in darker conditions than the f/4 or so a standard zoom would allow at a similar focal length.
You'll be able to shoot with really shallow depth of field effects.
It's only US$200. Nikon's AF-S 50mm f/1.4 costs more than twice as much and the cropped 75mm-effective field of view is less useful. If you can afford both, or need both, fine, but the 35 is going to be more useful overall.
If you own any other DX camera — basically, any Nikon digital SLR except the D3, D3x or D700 — you probably should buy this lens, too, unless you already have an equivalent fast prime (such as the older AF 35mm f/2, or Sigma's 30mm f/1.4, the resale value of which probably just took a major hit) in your camera bag. I already have the Sigma so I won't be getting this lens, but if I didn't have it, I would.
Via Digital Photography Review and Nikon Rumors.
Previously: A DX prime lens?