The Nikon D5000, plus a new 10-24mm lens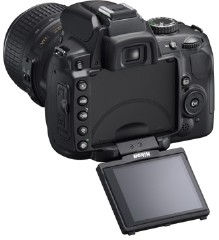 Nikon announced a new consumer-grade digital SLR this morning: the D5000. Contrary to expectations, this is not a replacement for the D40; instead, it sits squarely between the D60 (which, with the discontinuation of the D40, now becomes Nikon's low-end SLR) and the D90.
The D5000 appears to be a lot like the D90: same 12-megapixel sensor, 11-point autofocus and HD movie capacity, as well as compatibility with the GP-1 GPS unit and the MC-DC2 remote (I knew they wouldn't have released those for just one camera). On the other hand, it's a lot like a D40 or D60: no top LCD, no second dial, no ability to autofocus AF lenses, no commander mode for the built-in flash, no ability to use an external battery grip. And then there's the D5000's swivelling rear LCD, which no other Nikon DSLR has.
The D5000 is considerably more expensive than the D60: when both are bundled with the 18-55mm VR lens, the D5000's Canadian MSRP is $430 more than the D60's. On the other hand, it's a lot closer to the D90's price point: the D5000 with the 18-55mm VR lens is $220 less than a similarly equipped D90; that gap drops to $200 when both are bundled with the 18-105mm VR lens. I wonder how many buyers won't opt for a D60 (to save money) or a D90 (to add features) instead.
Early previews: Digital Photography Review, PhotographyBLOG.
Meanwhile, Nikon also announced a new wide-angle lens for DX cameras: the AF-S DX Nikkor 10-24mm f/3.5-4.5G ED goes a little wider than my 12-24mm f/4 lens, and is slightly cheaper (by $80 according to the Canadian MSRPs). It's equivalent to a 15-36mm lens on a full-frame camera, and is probably the widest zoom we're ever going to get on a DX camera.