The best camera is the one that's with you, says photographer Chase Jarvis. He's talking about the iPhone's built-in camera. The point being, if you have your iPhone with you at all times, you have a camera with you at all times, and while the quality of the iPhone's camera may be several orders of magnitude less than a digital SLR, you didn't bring that big, bulky camera with you, now, did you?
Trouble is, I can't justify owning an iPhone, and I've been unimpressed with the other camera phones that were available when I was shopping for a mobile phone. I can hardly take my Nikon D90 with me everywhere I go; I'm too weighted down as it is. To be honest, I was kind of hoping that the iPod touch would get a camera this year, but it didn't (for one thing, it's too thin for the iPhone's camera).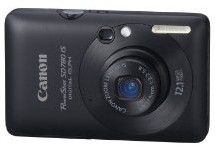 Instead, I settled on the Canon SD780 (Amazon), a tiny compact point-and-shoot camera. (Fortuitously, Henry's has it on sale this week.) I'm sure I'm going to find its limitations annoying ("what do you mean there's no aperture-priority mode?"), but it's so small I'm liable to lose it in my pants pocket. Which is to say that if I stumble across something photo-worthy, I'm going to have this camera on me — and a photo taken with an inexpensive camera with a tiny sensor is better than no photo at all.