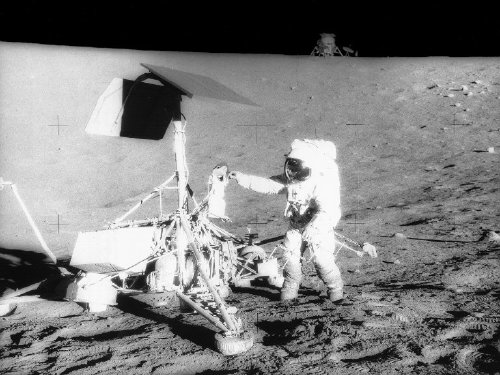 Today marks the 40th anniversary of the launch of Apollo 12, the second manned lunar landing. Each Apollo mission had its own memorable highlights, and 12 had plenty: not least of which the fact that the Saturn V rocket was struck twice by lightning during the launch. It was also the first precision landing, with the lunar module coming down within 200 metres of Surveyor 3.
Apollo 12's lunar module pilot, Alan Bean, turned himself into a full-time painter after his retirement from NASA. He's been painting scenes from the Apollo mission for years, incorporating bits of his uniform and moon dust into his paintings, and texturing them with his boot prints. An exhibition of his work opened at the Smithsonian National Air and Space Museum in July and runs until January 13, 2010; I bought the accompanying book, Alan Bean: Painting Apollo (Amazon.ca, Amazon.com), which reproduces his work since 1982. It's interesting stuff, not at all photorealistic — an honest attempt to portray in paint what he saw and experienced, and definitely a change from the books that collect Apollo-era photos that have been published this year.
Miles O'Brien (the former CNN space reporter) has this video of Alan Bean giving a tour of the exhibition:
Here's a New York Times article about Bean and his art from last June.