The Pontiac Liberal nomination race is on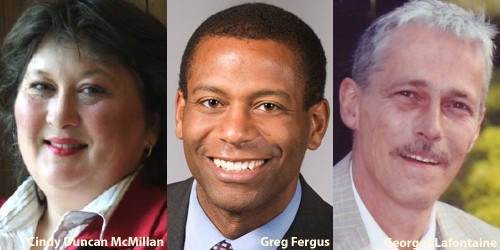 I've been trying to get a handle on the race for the federal Liberal nomination for the Pontiac, the face of which has apparently been changing rapidly over the past month. At the moment, it looks like there are three candidates for the nomination, the meeting for which will be held on September 13:
Cindy Duncan McMillan, who was the Liberal candidate the last time, winning 24.2 percent of the vote;
Greg Fergus, an Aylmer resident and former national director of the party; and
Georges Lafontaine, a writer and former political assistant who is currently working for the Anishnabeg tribal council in Maniwaki.
For a while it appeared that former M.P. Robert Bertrand was interested in the nomination, but it appears that he has ruled himself out this time. Bertrand's absence from the race is a pity, because I rather like the guy.
News coverage: The Low Down to Hull and Back News covered the nomination race when it was just Duncan McMillan versus Fergus. Coverage of Lafontaine's candidacy seems to be limited to the French-language media: Info07, Le Droit. The Equity ran a story and an editorial when Bertrand was floating the idea of another candidacy; they've been reprinted on Fergus's website.
(Only Fergus has a website for his nomination campaign; above, I've linked to Duncan McMillan's campaign site for last year's federal election and Lafontaine's Wikipedia entry, for lack of anything else to link to.)