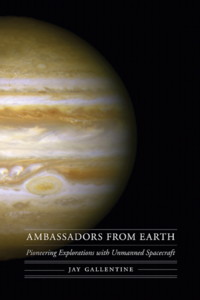 The fifth volume of the University of Nebraska Press's Onward Odyssey: A People's History of Spaceflight series, Jay Gallentine's Ambassadors from Earth: Pioneering Explorations with Unmanned Spacecraft is intended as a history of the exploration of space using unmanned space probes from the Explorer and Sputnik programs to the Voyager program. Like the other two books in this series that I've read, it's largely based on interviews with the key people involved. This is, in other words, an oral history rather than a definitive account. Also like those other books, it gives a vivid, behind-the-scenes look at how these programs were developed, in all their improvised, chaotic and bureaucratic glory.
There is much of interest here, but Gallentine's coverage is surprisingly patchy: for example, it covers the early Luna, Mariner and Venera probes in some detail, but omits the later craft, as though the early failures were more interesting than the later successes. Much attention is given to the Jet Propulsion Laboratory: the development of the Grand Tour — what eventually became JPL's Voyager 1 and 2, is described in loving detail, but only passing reference is made to Pioneer 10 and 11 (Ames projects), and the Viking program (run from Langley) is barely mentioned at all. A substantial amount of attention is given to Mike Minovitch's campaign to be recognized as the "inventor" of gravity-assisted spaceflight — a bit of dirty laundry that did not warrant so much detail. Gallentine may well have been a prisoner of his source material: not enough on some subjects, too much on others, and reluctant to throw away or to winnow out what he has.
Nor is the book improved by Gallentine's style: I'm a big fan of informal writing, but Gallentine's prose is not only too casual, it's purple, and verges too far at times into the smart-assed or chuckleheaded; the result is a jarring sense of bathos.
Ambassadors from Earth by Jay Gallentine