A new novella from Ted Chiang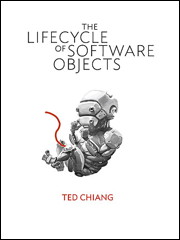 One of my favourite writers, Ted Chiang, has a new book out this month: The Lifecycle of Software Objects is a novella published in book form by Subterranean Press (Amazon.ca, Amazon.com). Rest assured I will be tracking down a copy of that just as soon as I can.
Chiang is not a prolific author. In the past 20 years he has published a total of 12 stories including this new one, all shorter works up to novella length. He has yet to publish a full novel. Even so, the 11 stories he has published up until this point have won four Nebulas, three Hugos, two Locus Awards, a Sidewise Award, and a Sturgeon Memorial Award. That's a preposterous number of knick-knacks for such a small body of work, and speaks to the quality of that work.
The Seattle-area magazine City Arts has a profile of Chiang in its July 2010 issue. It's only in the print version, but there's an online extra that I think is revealing: it details the issues Chiang had with Tor Books during the publication of his first collection, Stories of Your Life and Others (see previous entry). Chiang was deeply unhappy with the choice of artwork and the deadline he was given to produce a story especially for that collection, which led him to work with small presses after that; Stories of Your Life and Others will be reprinted by Small Beer Press in October. Not every writer would care as much about artwork or deadlines, if at all; not every writer would dare, much less consider, honking off New York publishers as a class. (Okay, who said "Harlan Ellison"?) It's one more way that Chiang, who works so slowly and exactingly, seems indifferent to the commercial imperatives that drive much of SF publishing.