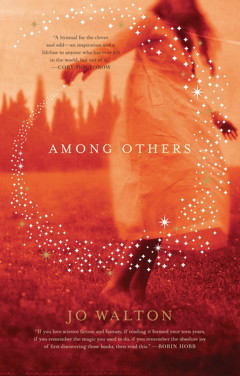 Today was the official publication date of Jo Walton's new novel, Among Others. It's a fantastic book, one of the best I've read in a long time. It's about fairies, and magic — and growing up reading science fiction and fantasy. That sounds like a dissonant combination, but oh does it ever work.
I managed to lay hands on an advance bound manuscript because Jennifer and I actually met Jo Walton at SFContario last November. In the dealers' room on day one of the convention, Jennifer managed to sing the praises of one of Walton's earlier novels, Tooth and Claw (which is the kind of novel Anthony Trollope would have written, if Trollope wrote about dragons), without realizing that Jo herself was sitting right in front of her. (That's got to be a satisfying thing to happen to an author.) By the end of the convention Jo was offering to sell us all her other books for a low price and to sign them all for Jen as well. That included the advance bound manuscript for Among Others. Looking at the cover blurb, I said, "This sounds really neat."
I had no idea just how good it was going to be.