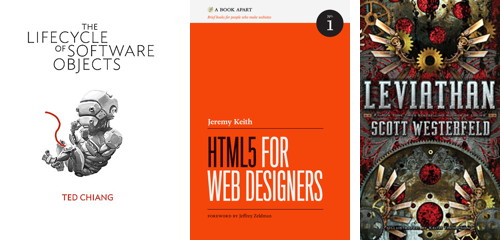 The Lifecycle of Software Objects by Ted Chiang. I wrote about Ted Chiang's new novella in July; our copy arrived in late August, and I read it in an easy Sunday afternoon on Labour Day weekend. If you like Chiang's work as much as I do, this one won't disappoint: as usual, a finely crafted work that blends a high concept with a powerful emotional punch. To explain what this book is about, imagine that we invented artificial intelligence. Now imagine that it only ran on the Amiga. That's what this story is about: the struggle to keep artificial intelligences going when technology — and society — have largely left them behind.
HTML5 for Web Designers by Jeremy Keith. Slender book explaining the history of the development of the HTML5 specification and the changes in code from HTML 4/XHTML 1.1. Extremely concise and at least as effective as longer, more expensive books on the subject (e.g., HTML5: Up and Running by Mark Pilgrim). I read this one as an e-book, in which format it cost me all of $9.
Leviathan by Scott Westerfeld. Young-adult steampunk alternate history set during the outbreak of World War I, where Europe's alliances are determined by their technologies: Germany and Austria-Hungary are Clankers, using machinery; Britain and France are Darwinists, using bioengineering. Readable, engaging and ultimately successful, but frustratingly reads as the first installment of a larger series, which it is.
The Lifecycle of Software Objects by Ted Chiang

Leviathan by Scott Westerfeld