First impressions: Apple TV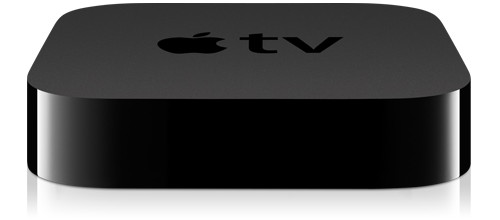 What the Apple TV does:
It connects to your high-definition television via HDMI (and only HDMI; cable sold separately).
It connects to your computer's iTunes library, allowing you to play music, audio and video through your HDTV and home theatre system.
It connects certain Internet video and photo services to your HDTV (Flickr, MobileMe, Netflix, YouTube).
When iOS 4.2 comes out next month, you'll be able to stream audio and video wirelessly from your iPad, iPhone and iPod touch on your HDTV and home theatre system, and not just from the default iPod or video apps. (This alone will save you the cost of a connector cable.)
It lets you rent and stream movies (and, in the U.S., TV episodes).
At $119 Canadian ($99 U.S.), that's not a bad set of features, even if you have no plans to rent movies from Apple, so long as you already have a heavy investment in the Apple ecosystem. Adding a TV to that system for a hundred bucks or so does not seem unreasonable. A video-out cable for the iPad, iPhone or iPod costs $55 in Canada, $49 in the U.S., which is half the cost of an Apple TV that does the same thing wirelessly.
The value proposition is better if you're a Netflix subscriber, which costs $8 a month for as much as you can watch. (There are, of course, other means of connecting Netflix to a TV; you may or may not already have one of them.) We just upgraded our Internet to 15 Mbps, and Netflix streaming is seamless and unbroken. I prefer the Netflix interface on the Apple TV to that on the Web or the iPad, though it's somewhat more limited in features and not as full-featured as Apple's own Movies interface.
Some observations:
Rentals are a dollar more expensive than they are in the U.S.
There are no TV rentals in Canada (see photo above).
You can only connect one iTunes account at a time via Home Sharing under Computers. Our household has two iTunes accounts, and it would be nice to be able to connect both at once. The restriction seems arbitrary, which is to say that I don't know what's behind it. Workarounds exist: you can log out of one iTunes account and log into the other one. You can also stream from other iTunes accounts via AirPlay; if you use the iOS Remote app, it's almost as good.
Your media is only accessible via iTunes. You can't look at photos in your Pictures folder or videos in your Movies folder: Apple TV is not Front Row.
Some nitpicks:
I've had to restart the Apple TV a couple of times (usually in the middle of using Flickr).
Flickr is surprisingly slow compared to the other services.
Netflix: I'd like the ability to search by actor or director.
YouTube: I'd like to be able to see all the latest videos from all my subscriptions on a single page, the way I can on the Web and on my iPad.
(Image of Apple TV courtesy Apple.)